What are Different Types of Skin Blisters?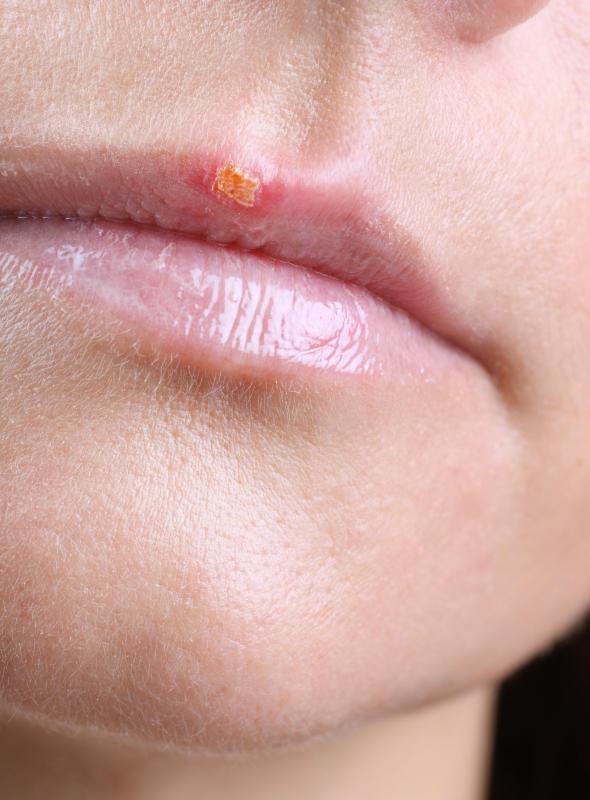 There are various types of skin blisters, among the most common being burn blisters, blood blisters, and water blisters. Epidermal blisters occur on the outer layer of skin, or what is known as the epidermis. Most skin blisters caused by burns are classified as second-degree burn injuries. Fever blisters occur after an infection and subsequent fever. Cluster blisters occur in small groups or clusters and may be due to infection or other factors.
Skin blisters can vary in size, ranging from the a tiny pea-sized blister to a large blister that covers a wider area on the body. Blisters that are caused by over exposure to the sun's ultra violet rays are known as sunburn blisters. Most sunburn blisters are localized to one general area of the body, although some sunburn blisters may form over a wide area of exposed skin. Blisters that form from a sunburn are generally painful and can be accompanied by peeling, red, and itchy skin. Redness and inflammation may also be present.
Blisters are pockets of liquid-filled skin that form underneath the epidermis. This fluid is also known as serum. After several days, depending upon the size of the blister, it will pop or erupt and the fluid will drain from the blistered skin, to expose a new growth of skin. In some cases, excess fluid from the pocket of skin will become absorbed back into the body naturally.
Water blisters contain clear liquid and are typically small in size. Most often, these types of blisters are caused by chafing and irritation against an area of the skin. May people suffer from water blisters due to wearing improperly fitted shoes, and runners and athletes are typically prone to this. Water blisters are generally harmless and mild and most require no treatment, other than to keep the area clean and free of friction.
Blood blisters contain small amounts of blood that have accumulated from small broken capillaries or vessels within the skin. These blisters are typically characterized by excess swelling. Most commonly created due to an injury surrounding the skin caused by impact, a blood blister will typically appear deep red in color.
Fever blisters occur on the mouth and may be accompanied by cold sores or develop on their own. This type of blister is caused by a virus and may be contagious. The herpes virus also causes fever blisters and cold sores and is actually quite common. Blisters of this nature may cause skin irritation and burning. Itching and peeling is also common. Fever blisters are best left to heal on their own without any intervention or treatment.
For most types of blisters, many doctors are against popping. By doing so, the area is more prone to becoming infected, unless kept extremely clean and germ free. Typically, a blister will erupt on its own, and when this happens, the individual may apply some antibiotic ointment, if well tolerated with no allergic reaction. The area should be kept free from dirt and germs, and may be bandaged with a sterile pad.
Most people can treat skin blisters with in-home care with no complications. If the blisters cover a large area of the body, however, this may require medical treatment to prevent infection. Signs of infection are redness, pain, increased swelling, and drainage of pus. If infection is suspected, the individual should seek immediate medical attention.
A cold sore.

By: Rob Byron

A water blister caused by friction.

By: Nikolai Sorokin

Wearing proper fitting shoes can help prevent blisters.

By: Wild Geese

A man with poison ivy blisters on his hand.

By: roblan

Viral skin infections may cause blood blisters.