What Are Ovarian Cancer Ascites?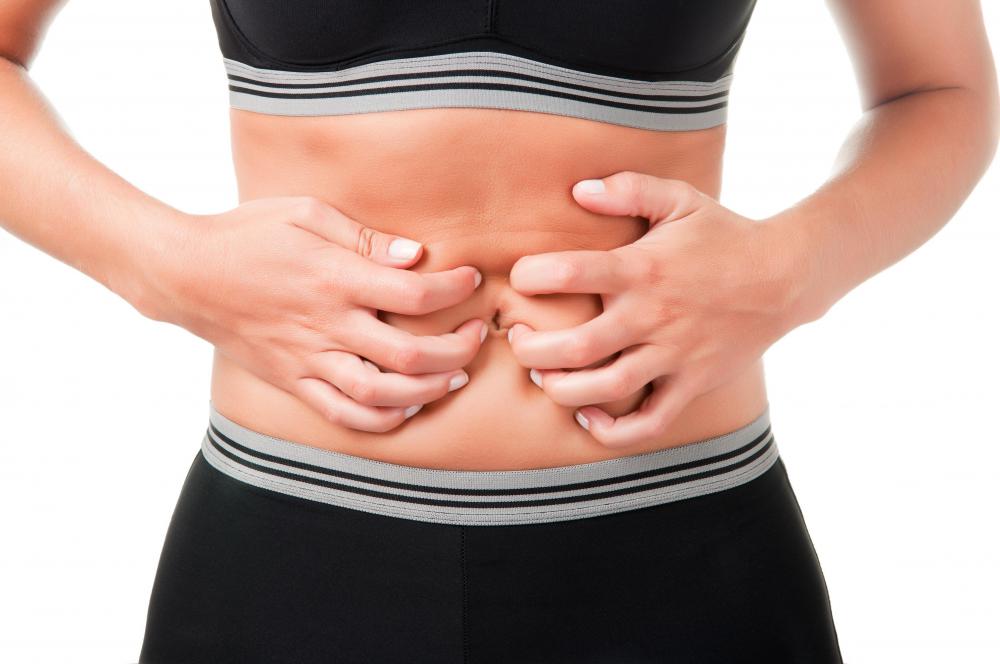 Ovarian cancer ascites are a buildup of fluid in the abdominal cavity. This type of ascites is usually caused when tiny, cancerous cells break off from a cancerous growth, or tumor, and float in the fluid. The buildup of fluid causes the abdomen to swell, and patients may look as though they are pregnant when they have ovarian cancer ascites.
This type of cancer starts in the ovaries, but because it is often not diagnosed until it is advanced, it may spread to other areas, such as the abdomen or intestines. Often, ovarian cancer ascites are what may alert medical professionals to the presence or possibility of ovarian cancer as it is one of the more obvious symptoms. This type of ascites is known as malignant ascites because there are cancerous cells floating in the fluid. There are other types of ascites related to kidney failure or liver disease that are known as nonmalignant ascites.
Healthy people generally produce several gallons of gastrointestinal fluid a day, which cycle through the intestines and lubricate the digestive tract. Bodies of healthy people generally absorb the fluid. When more fluid is produced and cannot be absorbed, ovarian cancer ascites are caused.
Doctors may detect ovarian cancer ascites with a simple physical examination. To be sure, however, a CAT scan or ultrasound may also be used to verify its presence. This type of ascites may also be caused if blood vessels in the digestive tract leak fluid into the abdominal cavity or if there are abnormalities in the protein in the person's blood.
One of the treatments for ovarian cancer is surgery, and if ascites are present, the fluid is generally drained during the procedure. It is not uncommon for ovarian cancer ascites to return during the course of treatment; however, chemotherapy usually makes it disappear. If the ascites are persistent, a stomach tap, or paracentesis, may be performed. In this case, a needle is inserted into the abdominal cavity, and the excess fluid is withdrawn from the patient. Several liters of fluid may be removed at the time of the procedure or during surgery.
In more serious cases, ascites in the abdominal cavity may cause more severe problems. For example, the fluid buildup may spread to the lungs, making it difficult for patients to breathe. This may often lead to a patient being put on a ventilator to help with breathing until the fluid can be drained.
Many conditions can cause ascites, or fluid buildup in the abdomen, such as ovarian cancer.

A CAT scan will often be used to verify the presence of ovarian cancer ascites.

Doctors may detect ovarian cancer ascites with a simple physical examination.

Growths associated with ovarian cancer may put pressure on the bladder, causing patients to experience frequent urination.

Chemotherapy may be helpful in treating ovarian cancer ascites.

Ovarian cancer ascites are often what alerts medical professionals to the possibility of ovarian cancer.

The ovaries are glands where the female reproductive cells are produced.