What are the Common Metoprolol Side Effects?
Like any other medicine, metoprolol has some side effects, though most are quite rare and easily treatable. This drug is typically used to treat angina, congestive heart failure, and high blood pressure, and its most common side effects tend to be fatigue, dizziness, diarrhea, rash, depression, and a slower heart rate. Other somewhat common metoprolol side effects include tingling or swollen limbs, heartburn, low blood pressure, difficulty breathing, dry mouth, nausea, constipation, and gas. Some symptoms of an allergy to the drug are rare but should be reported to a doctor, such as hives, wheezing, skin rash, swelling, and difficulty breathing.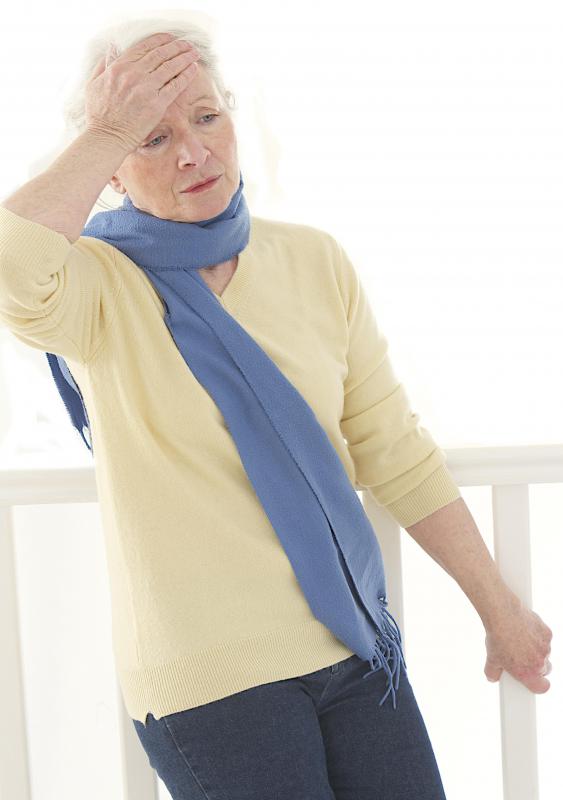 The most common side effects are fatigue, low heart rate, and dizziness. These are somewhat expected and not usually harmful, especially since the benefits of the drug tend to outweigh the risks of these mild side effects. Other risks include itching or a rash on the skin, and shortness of breath. Diarrhea and depression may also occur, though relatively few people experience these possible side effects. Despite the fact that they are considered mild in most cases, they should be reported to a doctor, who can check to make sure that they are indeed side effects rather than symptoms of another issue.
There are some less common metoprolol side effects that should still be known since it is usually impossible to tell ahead of time which patients will develop them. Some people get cold or numb hands and feet, and these body parts may also swell for no apparent reason. Since this medication is typically used to help treat high blood pressure, it should not be surprising that lower blood pressure is a side effect. On the other hand, many people are surprised by the shortness of breath, wheezing, dry mouth, constipation, heartburn, and gas that may accompany this drug.
Some people have an allergic reaction to this drug, displaying symptoms that are typically more severe than the usual common metoprolol side effects. A skin rash, hives, wheezing, swelling, and difficulty swallowing or breathing are all possible signs of an allergy to this drug. Of course, most of these are also somewhat common metoprolol side effects, but most patients only get a few of these symptoms, not all at once. Therefore, patients who appear to be allergic to this drug should seek emergency treatment, especially if it is difficult to breathe or swallow. Typically, a different medication will be prescribed once the allergic reaction is treated.
Hives may indicate a medication allergy.

Dizziness is one of the more common side effects of metoprolol.

Metoprolol is most commonly given to treat heart problems.