What are the Signs of High Blood Pressure?
The signs of high blood pressure, or hypertension, are often so subtle as to appear nonexistent. When they do manifest, the most conspicuous signs of high blood pressure are dizziness, blurry vision, breathing problems, and a pounding pulse. Less clear symptoms include headaches, nose bleeds, and nausea. Most individuals with early-stage hypertension don't experience noticeable or worrisome symptoms, although some do. Potentially life-threatening levels of high blood pressure typically are reflected in one or more of the aforementioned symptoms.
Blurry vision, trouble breathing, nausea, and disorientation are all serious signs of high blood pressure—especially when experienced together. Generally, such signs don't manifest themselves until someone reaches critical blood pressure levels that require immediate medical attention. If unattended, severe levels of blood pressure can result in life-threatening episodes, such as seizures, aneurysms, and heart attacks. High blood pressure can also cause metabolism to fluctuate, resulting in weight gain and an increased risk of diabetes, strokes, and heart problems. Very high blood pressures can also cause permanent damage to one's vision.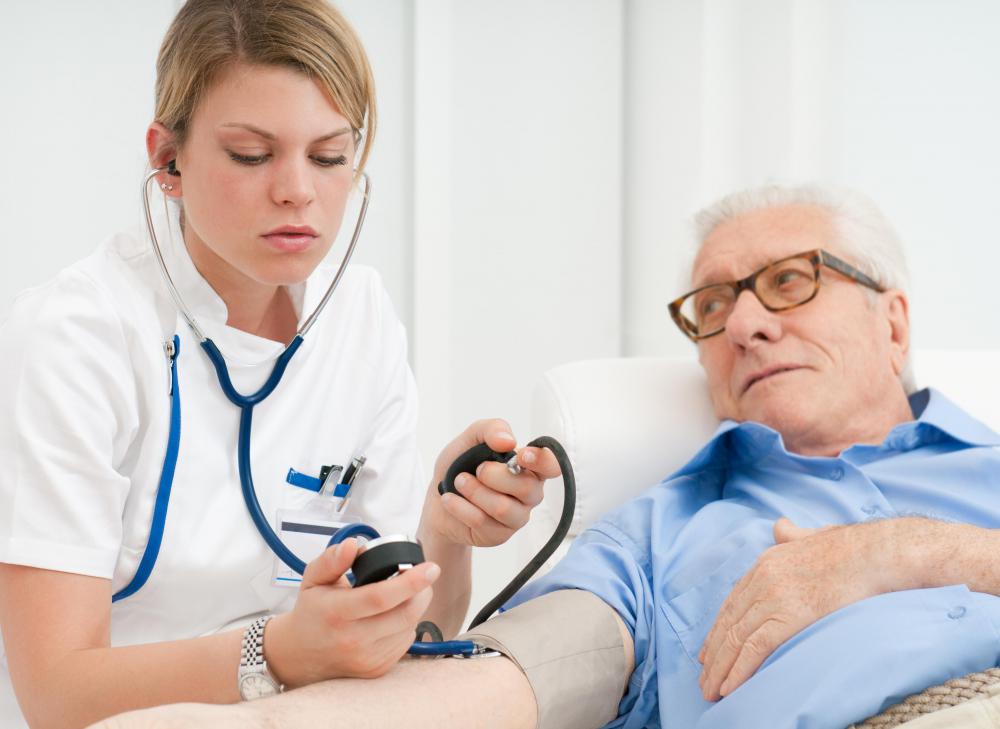 Individuals who don't yet experience constant, severe blood pressure levels may not realize their condition, due to subtle or nonexistent symptoms. What symptoms do manifest may be difficult to interpret as signs of high blood pressure. Such individuals may experience an increase in headaches, for example, or have more nose bleeds. Occasionally, they may experience a faster heart rate that results in the sensation of a pounding in the chest, neck, and head. They may also experience irregular heartbeats. Such symptoms are likely to continue to manifest if high levels of blood pressure become more severe.
Due to the fact that signs of high blood pressure are notoriously difficult to detect, it's important that adults be vigilant about having their blood pressure checked at least once every couple of years. Many cases of high blood pressure—cases that would otherwise go undetected—are discovered during a routine doctor's visit. Without routinely checking one's blood pressure, hypertension problems might not become apparent until they reach severe levels. If for some reason a visit to a doctor is problematic, many grocery stores feature stations where individuals can check their blood pressure for free or for a nominal fee. These stations are able to give a general idea of one's blood pressure, but their readings aren't nearly as accurate as at a doctor's office.
Certain demographics should be extra vigilant about detecting signs of high blood pressure. Blood pressure is affected by age, which means that as individuals get older, they should accordingly take more measures to regulate and monitor blood pressure. Blood pressure is also affected by being overweight, and stress also can cause blood pressure to rise. Diets insufficient in potassium and vitamin D, and diets too rich in sodium are known to elevate blood pressure as well.
Individuals who smoke tobacco or drink alcohol also should be aware that such substances can adversely affect blood pressure. Pregnant women also are at an increased risk for hypertension, which can lead to preeclampsia, a possibly deadly condition. Lastly, anyone whose family has a history of complications with blood pressure should be extra vigilant about watching out for their own increased risk of developing hypertension.
Using tobacco products, such as cigarettes, can increase blood pressure.

Dizziness, blurry vision, and breathing problems are all signs of high blood pressure.

High blood pressure has a number of causes and risk factors.

There are many medications designed to lower blood pressure.

High blood pressure during pregnancy may cause stillbirth.