What can I Expect from Fissure Surgery? (with pictures)
Anal fissures, or tears in the mucous membranes supporting the anus, are very common, painful problems. Most fissures are small and temporary, generally responding well to home remedies and medications. A fissure can become a chronic nuisance for some people, however, and surgery may be recommended as a permanent cure. Fissure surgery usually entails one or two small snips in the rectal sphincter to loosen the muscles and widen the anal cavity. The procedure can usually be performed in an outpatient setting in less than one hour, and patients generally make full recoveries in about two months.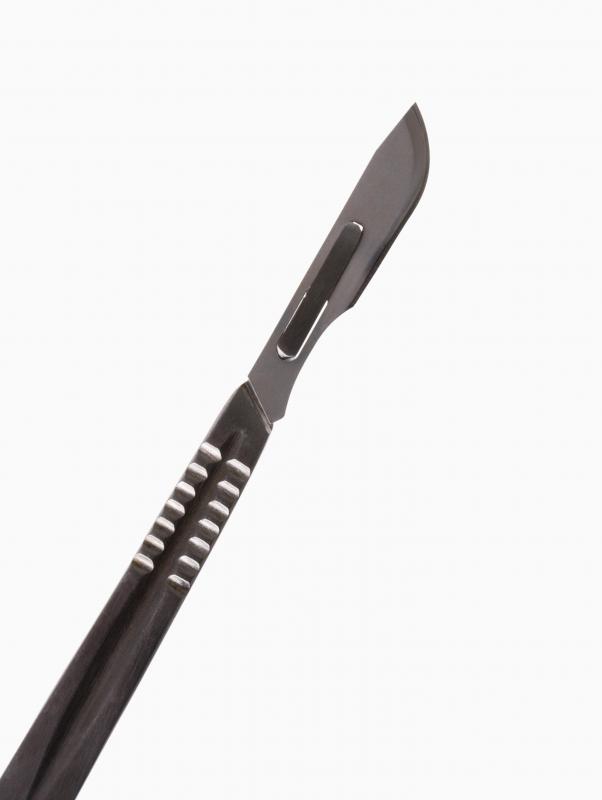 A person who is scheduled for fissure surgery can expect to meet with the surgeon beforehand to discuss the procedure, recovery tips, and potential risks involved. On the day of the surgery, the patient is typically given a saline laxative to cleanse the bowels and reduce the risk of infections during the procedure. A dose of general anesthetic or a shot of localized anesthetic near the anus usually is given to numb pain just before the procedure begins. With the patient lying on his or her back, the surgeon carefully sterilizes the area around and just inside the anal opening.
A scalpel is used to make a small cut along the internal sphincter, which allows the muscles to relax and dilate. Any scar tissue or severely damaged areas of tissue are removed to avoid complications. With the sphincter relaxed, the area is once again sterilized, and the patient is brought to a recovery room to wait for the anesthesia to wear off. He or she may be given pain medications and topical antibiotics to use at home.
After the surgery, a patient is usually instructed to rest for one or two days and then slowly return to activity. Stool softeners, fiber supplements, and dietary restrictions may be recommended to aid in passing stools during the healing phase. Some patients experience some degree of incontinence for the first few days after fissure surgery, but bowel control typically returns in less than one week. Minor pain and discomfort may persist for up to two months.
Fissure surgery has a very high success rate. There is a small chance that fissures can return at some point in the future, but steps can be taken to help prevent their recurrence. A post-surgical patient is encouraged to maintain a high fiber diet, get plenty of exercise, and avoid straining during bowel movements. Long-term use of stool softeners may be necessary to avoid constipation. Finally, periodic checkups with a doctor are important to make sure problems do not arise again.
Pain medication may be necessary following fissure surgery.

A scalpel is a small, sharp knife that is used for performing surgeries.

If a patient has a fissure that does not respond to medications or home remedies, he or she may need surgery to correct the problem.

Doctors will usually prescribe a topical antibiotic ointment to be applied after fissure surgery.

After fissure surgery, patients are typically advised to eat lots of vegetables and other high-fiber, low-fat foods.