What Causes Burning and Itchy Feet?
Burning and itchy feet can be caused by a number of things related to both medical conditions and lifestyle choices. Some of the most common include fungal infections, allergic reactions, and ill-fitting shoes, though more serious medical problems like diabetes and gout may also be to blame. Burning and itching that doesn't last very long or that comes and goes isn't usually anything to worry about, but symptoms that don't seem to get better or are really interfering with daily life should usually be evaluated by a professional.
Athlete's Foot
Most of the most common reasons why someone's feet might burn and itch has to do with the fungal infection tinea pedis, also known as athlete's foot. This type of infection thrives in moist environments and is very contagious. People typically develop the fungus through persistent foot sweating or re-wearing sweaty socks, but it can also be picked up in community showers, bath houses, or locker rooms.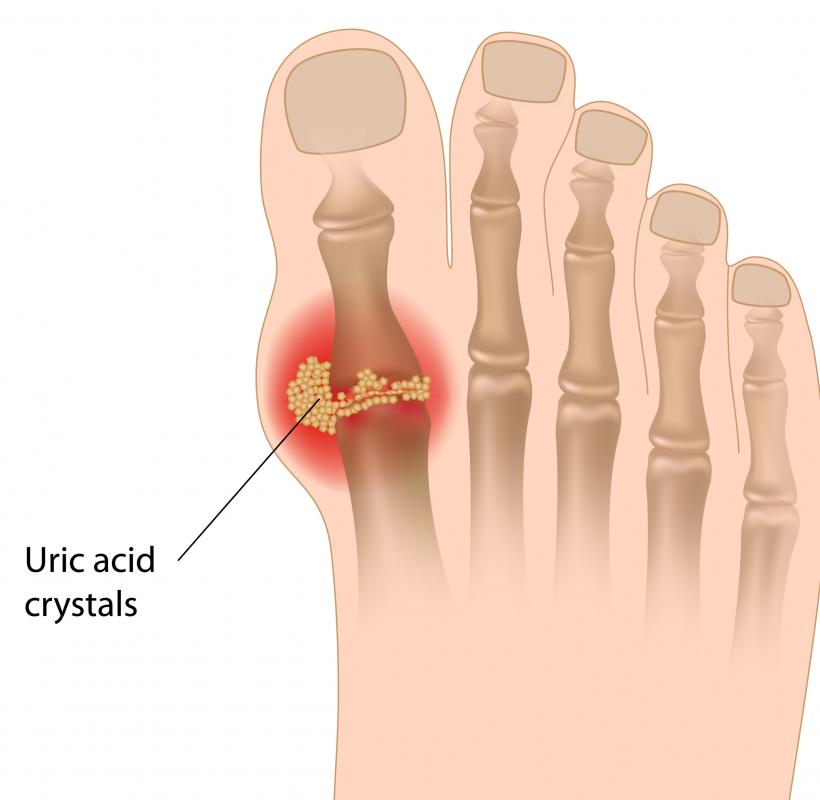 The bacteria invades the outer layer of the skin and causes a scaly outbreak that most people say is quite painful. The best way to treat this condition is to keep feet dry; the infection will usually go away on its own after a few days, but topical anti-fungal creams can speed the process and lessen the discomfort.
Skin Reactions and Burns
Allergic reactions to things like detergents, lotions, or fabrics can also have this effect on feet. These cases are often characterized by raised rashes and tend to dissipate once the irritant is removed. Longer-lasting rashes often happen in response to things like poison ivy or poison oak, two plants that release toxins that can cause extreme itching and burning anywhere they touch the skin. A person who has walked barefooted through a lawn or other wooded area and has a rash that weeps or oozes might have come into contact with one of these plants.
Some insect bites or stings can also be a cause, particularly in people who are allergic or have skin sensitivities. Sunburn can have a similar effect. The skin on most people's feet is somewhat delicate and often doesn't see the sun very much, which makes it more prone to burning — and makes more serious burns all the more likely. The itching and burning associated with this almost always goes away on its own, but can be helped along with the use of aloe creams and cooling lotions. Bites, stings, and allergies are usually best treated with antihistamines or creams like calamine lotion that are designed to calm irritation.
Footwear and Lifestyle Problems
A simple but often overlooked cause of these symptoms is ill-fitting footwear. When shoes are too tight or too small, they tend to compress the nerves and surrounding tissue in the foot and ankle and can cause both burning and itching over time. Tight shoes also compromise circulation, which can make these symptoms more pronounced. High-heeled shoes that keep feet positioned at a near-vertical angle are often some of the worst. Relief in these cases is often as simple as finding better fitting shoes, else giving feet a rest every few hours or so.
Diabetes
People who suffer from both Type 1 and Type 2 diabetes may also experience these symptoms thanks to neuropathy, a nervous system condition that often accompanies the disease. Neuropathy can cause nerve damage because of high levels of circulating blood sugar. When diabetes is well managed, symptoms of neuropathy are usually mild but nevertheless commonly include burning, itching, numbness, and tingling in both the hands and feet.
Gout
Although gout typically causes pain in the big toe, it also can cause burning and itchy feet. Gout, an arthritic condition characterized by high levels of uric acid in the blood, typically causes joint inflammation that can lead to feelings of intense itching and heightened sensitivity. This condition isn't usually curable and often won't go away on its own, but prescription medications, herbal and natural remedies, and certain physical therapy exercises can lessen symptoms.
When to Seek Help
Most of the burning and itching people feel in their feet is nothing more than a temporary inconvenience that will go away on its own or else disappear with the help of different creams, lotions, or over the counter remedies. Medical help isn't always required, though healthcare experts usually recommend that people talk to their healthcare provider about any sensations that last longer than a few days, seem to get worse, or don't respond to basic treatment.
By: Brocreative

Athlete's foot can be contracted by walking barefoot in locker rooms.

By: vladstar

High-heeled shoes may cause burning and itchy feet.

By: Alila Medical Media

In addition to pain in the big toe, gout can cause burning and itchy feet.

By: nebari

Burning and itchy feet may be caused by an allergic reaction.