What does "Enteric-Coated" Mean? (with pictures)
Enteric-coated means a pill or other form of oral medication is layered with a protective coating. It stops the pill from dissolving in the stomach and irritating the lining, or rendering the medication ineffective. In rare instances, this coating is used to protect the stomach from possible harmful effects of a medication. It is most commonly used in aspirin and other non-steroidal anti-inflammatories (NSAIDs) that are known to irritate the stomach lining, but is also often used in medications or vitamins that need to dissolve in the small intestine to be absorbed properly.
The stomach lining has a low pH level, meaning that it is very acidic and can easily break down food to begin the digestive process. If a pill is enteric-coated, it won't break down in an acidic environment but will in an alkaline environment. This means that it will dissolve in the small intestine, where the pH level is above 7. The word enteric actually means referring to the intestine.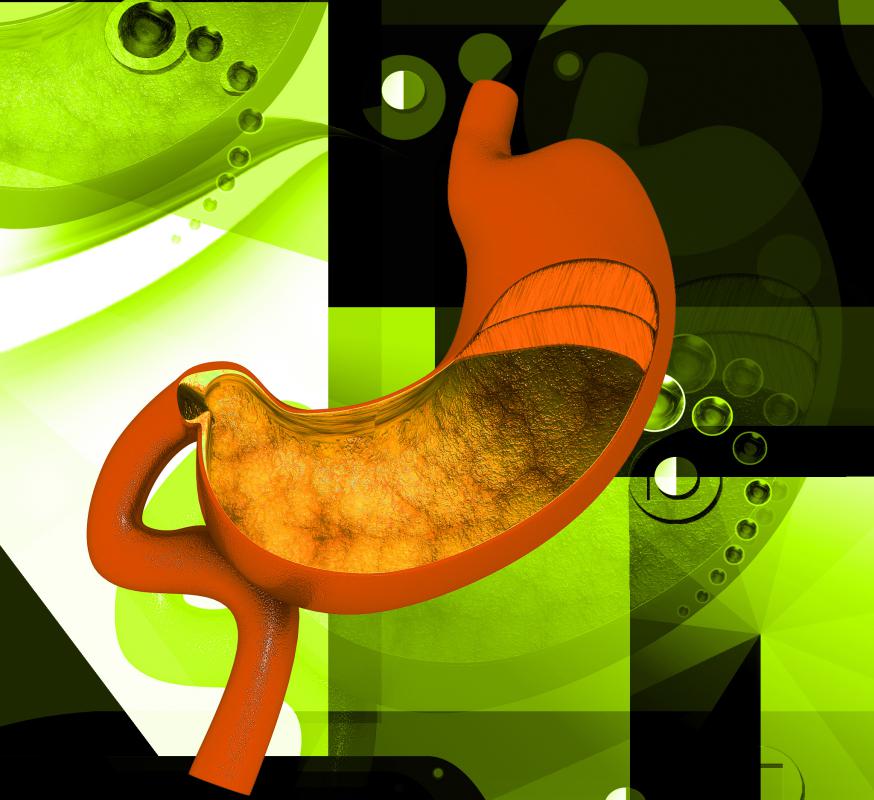 Wax, plastics, or plant fibers, such as starch, are used to make the coating. Other materials that are used are certain types of shellac and fatty acids. Most of these are polymers that are either man-made or natural and won't break down below levels of pH 5.5.
The use of an enteric-coated pill was primarily prompted by the high incidence of gastric disturbance from the use of NSAIDs. It is not just a matter of pain or discomfort, and many of the NSAIDs can cause serious problems, such as ulcers. The coating can be very helpful in possibly avoiding the dangerous side effects, especially for those who take these drugs regularly. It is also used in fish oil and garlic supplements to stop the capsules from dissolving in the stomach and causing foul-tasting burps.
In addition to helping to avoid irritating the stomach lining, an enteric coating can also increase what's known as bioavailability. This means that certain vitamins and medications are absorbed more readily in the small intestine, rather than the stomach. By using this coating, it increases the chances that the vitamin or medication will be absorbed properly.
The coating on these pills won't work if the medication is crushed or broken. Doing this breaks the seal and exposes the contents to the stomach acid. Although it may be easier to swallow a crushed pill, it will lose its protective benefits.
Enteric-coated fish oil tablets.

Aspirin are typically enteric-coated.

Enteric-coating of medication helps to prevent irritation of stomach lining.

Starch can be used to make enteric coating.

Enteric coating enables medications to absorb properly in the small intestine.

The pH level of the small intestine is above 7.