What is a Hip Cyst? (with pictures)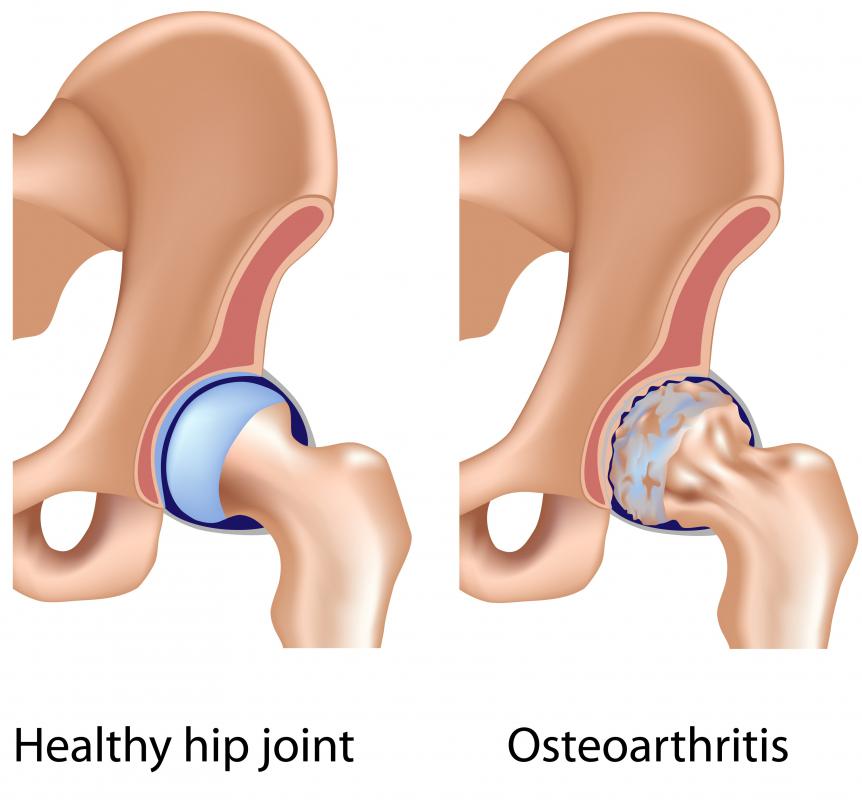 A hip cyst is a cyst that forms on the hipbone as a result of trauma or injury to the hip, such as a fracture. In some cases, a hip cyst might be the result of another disease or illness in the body, such as cancer. Pain in the hip is a first indicator of a hip cyst, although some cysts occur without pain. Hip cysts usually are detected on an X-ray that is performed for another medical reason.
A subchondral hip cyst is a common type usually seen in the early stages of osteoarthritis. The cyst forms in the subchondral layer of bone below the cartilage and extrudes from the joint. It is filled with hyaluronic acid and joint fluid and sometimes causes discomfort. Subchondral cysts often go away on their own without requiring medical attention. Patients suffering from painful subchondral hip cysts can find relief through the use of non-steroidal anti-inflammatory drugs (NSAIDs) and are advised to avoid any activity that might irritate the joint.
Another type of cyst is a synovial cyst. Synovial cysts are small, fluid-filled sacs that form over a tendon on the hip or the joint itself and create a mass underneath the skin. Cysts of this kind tend to be the result of rheumatoid arthritis, osteoarthritis and repetitive motion of the joint over a long period of time. The cyst might be painful initially before becoming painless after a few months.
The size of a synovial cyst can fluctuate with activity, and the cyst can go away and recur after a period of time. The mass under the skin usually is soft but can become firm over time. Depending on where a synovial cyst is located, the affected limb might feel numb or tingly to the touch.
Some synovial cysts spontaneously rupture on their own and provide relief from the pain. Medical attention might be required for recurrent or longstanding painful cases. Treatment might involve drainage with a long-gauge needle followed by injection with a corticosteroid drug to shrink or dissolve the cyst. A cyst also might be removed through surgery or through fluoroscopically guided removal.
These cysts can recur even after drainage and corticosteroid injection, and they often do. Surgical removal might provide the best possible chance of non-recurrence. The prognosis for a cyst that is cancerous depends on the type of cancer and the extent to which it has spread. Most patients resume full mobility after allowing sufficient time for healing after surgery.
Osteoarthritis may cause hip cysts.

Hip pain may be a sign of a hip cyst.

Anti-inflammatory medication may help to treat a hip cyst.

Hip cysts are usually detected on X-rays that are taken for other medical reasons.

Synovial cysts in the hip are often caused by rheumatoid arthritis.

Trauma or injury to the hip may cause a hip cyst to form.