What is a Low Blood Pressure Headache? (with pictures)
A low blood pressure headache can occur when a person's blood pressure drops to extremely low levels. The pressure of blood is the force that the blood exerts upon the inner walls of the blood vessels. When the pressure is low, it deprives the brain and other vital organs of proper nutrients and oxygen. Deprivation of these vital nutrients and oxygen to the brain is what causes the headache to occur.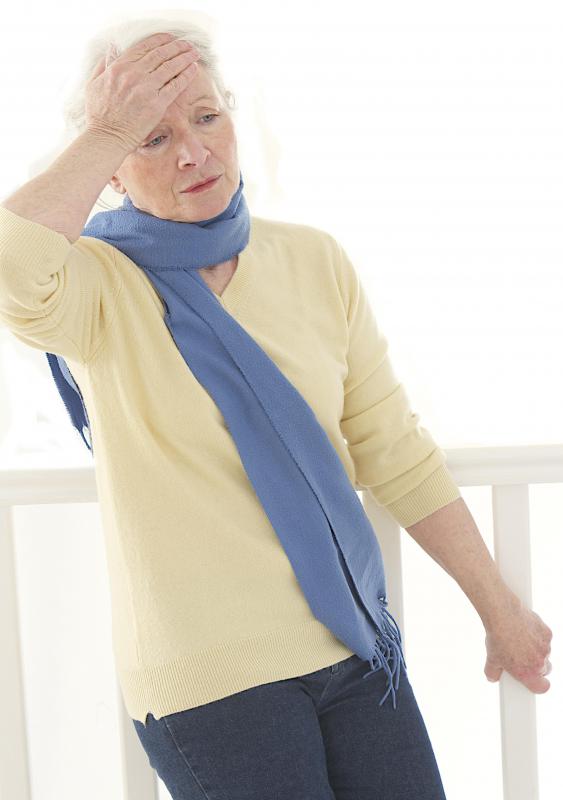 Low blood pressure is also known as hypotension. It is preferred over high blood pressure, because studies have shown that people who have lower blood pressure have a reduced risk of developing kidney or heart disease. When the pressure drops too low, however, it can cause serious and long-term damage to vital organs such as the brain, kidneys, heart, lung and liver. Some of the symptoms of a low blood pressure headache include a lightheaded feeling, fainting, dizziness, fatigue and weakness. These symptoms are often worse when a person changes positions, such as standing up from a sitting or lying position.
If the blood vessels open up too wide, it can result in low blood pressure. Other causes of low blood pressure include anemia, heart conditions, hormonal changes, dehydration and certain medications. In general, blood pressure is considered to be low when it drops below "90 over 60," or 90 millimeters of mercury (mmHg) when the heart beats and 60 mmHg between heartbeats. This number, however, does not determine whether one's pressure is too low, because some individuals might not experience any symptoms even at lower levels such, as 90/50 mmHg, and others might experience symptoms at higher levels, such as 100/60 mmHg. Therefore, low blood pressure is often determined by the signs and symptoms associated with it.
A headache might be caused by a number of things, such as toxins around the brain area, lack of oxygen or nutrients, stress or fatigue. Low blood pressure can deprive the brain of essential nutrients and oxygen, because the blood is the vehicle for the oxygen and nutrients to reach the brain. If the blood pressure is low, then not enough blood reaches the brain in time to wash away toxins and deliver nutrients to the cells. As a result, a low blood pressure headache occurs.
Treatment for this kind of headache largely depends on its cause and severity. If it is the result of dehydration, then fluids and electrolytes are often used as effective treatments. In cases of a low blood supply, intravenous fluids or blood transfusions are suitable treatment options. The risk of a low blood pressure headache can be reduced by drinking plenty of fluids, getting plenty of rest, eating small meals, avoiding alcohol and avoiding standing for long periods of time.
Someone who experiences headaches on a regular basis should have their blood pressure checked.

Dizziness can occur with a low blood pressure headache.

Low blood pressure headaches caused by severe dehydration is treated with intravenous fluids.

Blood pressure is the force exerted on the walls of blood vessels as blood travels around the body.

Various medicines can be prescribed to treat low blood pressure.

Avoiding alcohol is one way to reduce the risk of a low pressure headache.

A low blood pressure headache may be caused by excessive stress.

A low blood pressure headache is caused by lack of oxygen and nutrients being delivered to the brain.

Low blood pressure can deprive the brain of essential nutrients and oxygen.

Taking blood pressure medications before bed may cause better blood pressure control overall.

Generally, doctors recommend resting blood pressure levels be just below 120/80.