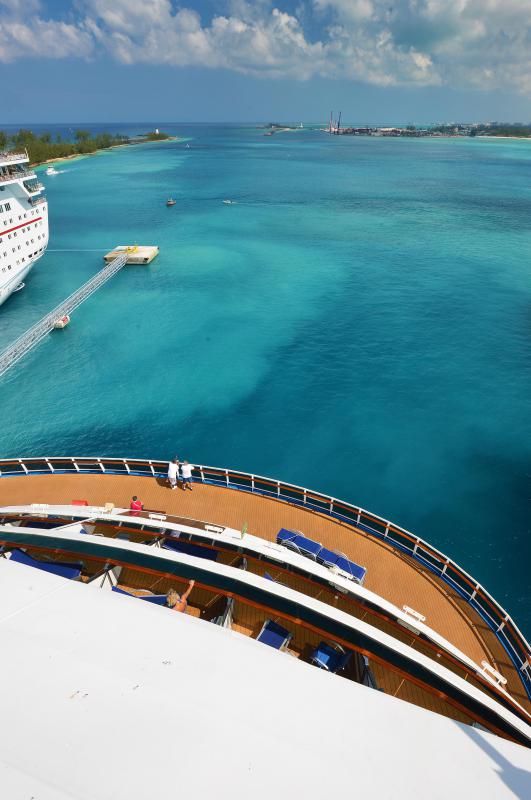 Okay, let's all get it out of our systems right now. The poop deck of a sailing ship has absolutely no connection with a certain bodily function. That sort of business is generally handled in the area below the ship's bow called the head. A poop deck is actually the roof of a poop cabin located in the rear (aft) section of a sailing ship's main deck.
The word poop for our purposes comes from the Latin puppis, meaning "stern." Shipbuilders often designed a cabin space in the very rear of the ship called a poop cabin. This poop cabin extends a few feet above the level of the main deck, and is finished off with a flat roof. The flat roof of a poop cabin also serves as an observation platform called the poop deck. Officers and high-ranking sailors often used this area as an ideal position for observing the crew at work.
The poop cabin on a sailing ship generally served the same purpose as the raised bridge area does on a modern ship. The poop cabin could be used as an officer's mess hall during meals, as well as a storage area for maps, journals and official logs. The poop deck itself was a good vantage point from which to assess the condition of the ship's sails, since it was usually positioned behind the shorter third mast, or mizzenmast. If the captain was not at the helm himself, he could generally be found on the poop deck issuing orders to the helmsman.
As sails gave way to engines, the need for a functional poop deck decreased significantly. Almost all of the vital command orders could be issued from a centralized bridge which overlooked the entire ship. Modern sailing ships may still have an elevated cabin in the aft area, but the poop deck is little more than a raised platform suitable for sunbathing or other recreational uses.
By: Costin79

The poop deck is the rearmost section of the ship and doubles as the roof for the poop cabin.

By: spiritofamerica

The poop deck is the deck above the rear and uppermost cabin on a ship's stern, or aft.