While it may be tender and sore, a bruise, also known as a contusion, is generally considered a minor injury. The term bruise refers to harm to soft tissue and blood vessels, or bleeding under the skin, when the skin has not been broken. The blood collects in one area and is marked by a change in skin color and often by inflammation. A severe bruise, on the other hand, may be an indicator of a more serious problem.
Common bruises are often referred to as "black and blue" marks, but a fresh, minor bruise will usually appear pink or red at first and then change to light blue or purple. A severe bruise will be darker, and may in fact appear black and blue, as well as dark purple, and may be rather swollen. As a bruise heals, the colors change and can turn green, brown, or yellow.
Deep bruising with swelling is often treated first with ice or some form of cold therapy. After the first 24 to 48 hours, heat may be applied. Bruise cream can aid in healing bruises and relieving pain more quickly as well as improving appearance.
A serious bruise often occurs as the result of an injury such as a sprain or a broken bone. The bone itself may also be bruised. Bruising can also be caused by illness, especially blood diseases. If swelling increases, if the bruise is very painful, or if it does not begin to improve after a week or two, it is a good idea to see a doctor.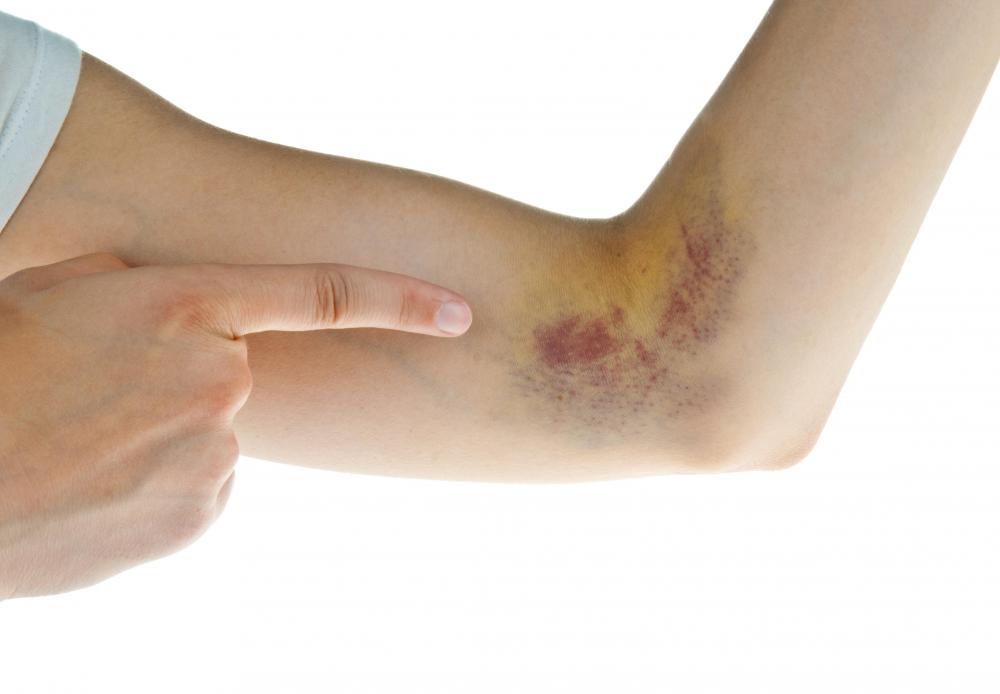 In most cases, bruises will not require medical attention. Elevating the injury, using ice packs or a heating pad, and applying a topical cream may be all that is necessary. With a severe bruise, however, paying close attention to any changes is important.
The location of a severe bruise can also be an indicator of a more serious medical problem. A bruised navel may indicate internal bleeding. Bruising behind the ears or around the eyes can be a sign of head injury, which can indicate many issues from concussion to brain injury or skull fracture. These types of bruising should be evaluated by a health-care provider immediately.
A severe bruise that begins to feel hard or continues to grow instead of healing should also be checked out. A severe bruise that fits this description is often referred to as a hematoma. While the body will generally absorb the hemorrhaged blood over time, sometimes it will need to be drained. Draining may be necessary to aid in healing as well as to avoid infection.
By: Dusan Kostic

A severe bruise may occur as the result of a sprain.

By: carroteater

A topical cream may be helpful in treating a severe bruise.

By: Marc Dietrich

An ice pack, which can help with a severe bruise.

By: bertys30

A broken bone can cause a severe bruise.

By: Harald Biebel

Those with blood disorders may develop severe bruises even from minor accidents.

By: Dusan Kostic

Bruising around the eyes may be a sign of a head injury.

By: petert2

An ice pack may be helpful in treating a bruised head.