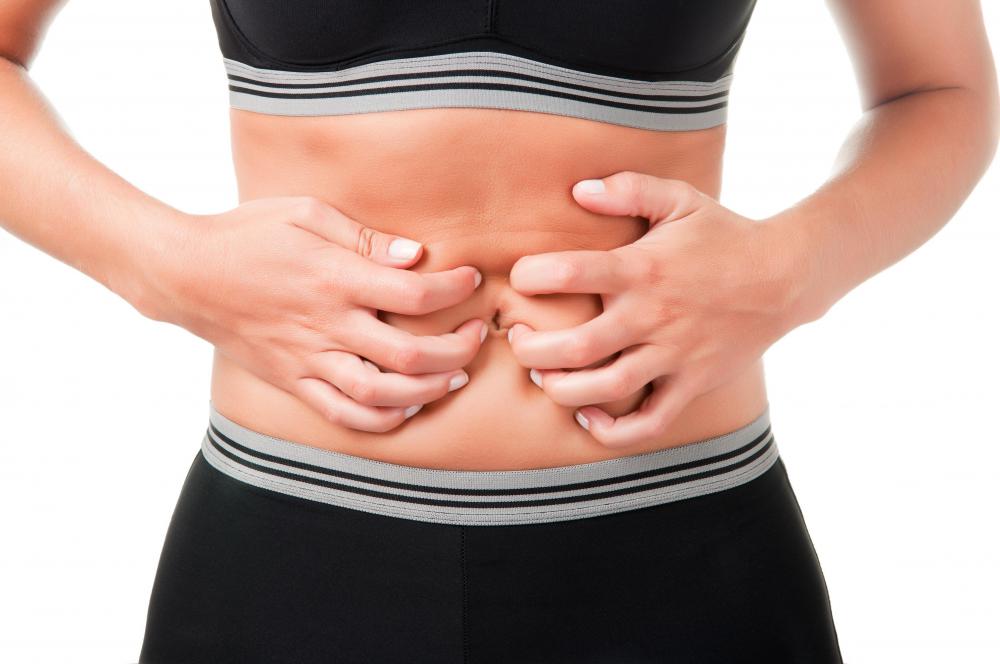 The term abdominal girth is usually used in reference to the measurement of the circumference around the abdomen. This measurement is typically taken at the navel level to ensure that measurements over time are consistently taken in the same spot. Sometimes, however, the measurement is taken at the waist, or the narrowest point of the torso. A person's girth may change throughout his or her lifetime due to factors such as weight gain or loss, pregnancy, and certain diseases.
Many doctors and fitness professionals recommend taking measurements of abdominal girth to judge the amount of abdominal fat present. High levels of abdominal fat are linked with diabetes and heart disease. Obese individuals are more likely to have a large abdominal circumference than non-obese people, so measuring the girth of the abdomen is sometimes used as one of the methods of measuring obesity.
People on diet and exercise plans often have difficulty judging whether or not the plan is working when the total body weight, as measured on a scale, does not show a dramatic change. This may be due in part to the development of lean muscle mass, which may cause the individual to weigh more even though he or she has lost body fat. One of the ways of gauging the success of a weight loss plan is to record body measurements, including abdominal measurements, over time, and judge whether they are decreasing as the weight loss plan progresses. Sometimes, however, abdominal girth may not be the most accurate way to determine fat levels. Many women tend to store fat around the hips rather than the abdomen, and some people have thicker layers of muscle around the torso.
Many body fat percentage calculators improve accuracy by using several body measurements, including abdominal girth, to calculate how much of the individual's body is composed of fat versus lean mass. This can be a very useful way to determine the effectiveness of a diet and exercise program. Smaller measurements in relation to total body weight generally indicate a loss of body fat and a gain or maintenance of lean body mass, which is often the goal of many fat loss programs.
There are reasons other than fat gain or loss that a person's abdominal measurements may change. The circumference of a pregnant woman's abdomen will increase with development of the fetus. An increase in abdominal girth may also be an indicator of liver or intestinal problems. It is also one method of measuring gas and bloating in people who have abdominal discomfort.
Abdominal girth may be taken on by those experiencing persistent gas and bloating.

Abdominal girth increases during pregnancy.

A person's abdominal girth may change due to weight gain.

Obese individuals are more likely to have a large abdominal circumference.

Women who have higher than 30 percent body fat are considered obese.

Abdominal girth can be reduced by doing sit-ups.

Abdominal muscles can be strengthened by crunches and sit-ups, but usually girth can only be reduced through diet and cardiovascular exercise.

Reverse crunches help work the lower abdominal muscles of the stomach.

Some obese people may improve their health by donating blood.