What is Acute Thyroiditis? (with pictures)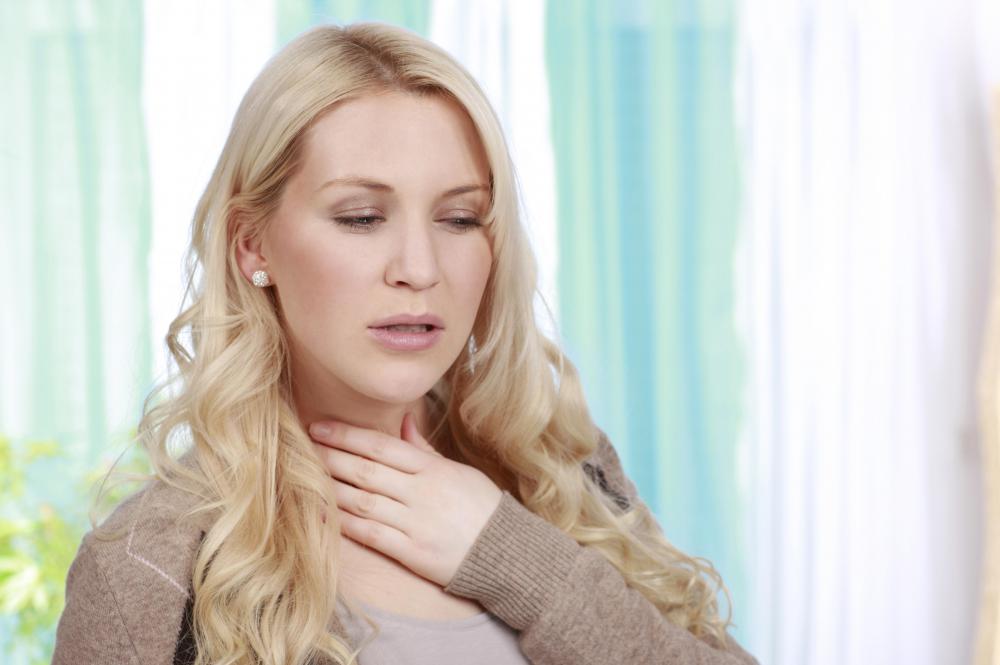 Acute thyroiditis is a rare type of bacterial infection that affects the thyroid gland. Pathogens embed within the gland and create an inflamed, pus-filled abscess. As a result, a person is likely to have swelling and tenderness in the neck as well as body-wide symptoms of fever and fatigue. A doctor can run a series of tests to determine whether symptoms are truly related to acute thyroiditis or a more serious chronic condition such as thyroid cancer. Most cases of acute thyroiditis can be easily remedied with antibiotics, though surgery may be necessary if the gland is seriously damaged by the abscess.
The thyroid gland is an uncommon site for bacterial infection. When an acute case of thyroiditis does occur, it is usually secondary to an infection in the throat, mouth, or lungs. Bacteria can migrate to the thyroid from other parts of the body as well. Many different pathogens can potentially lead to thyroiditis, but the most common are strains of Streptococcus and Staphylococcus. People who have weakened immune systems due to old age or a chronic condition such as AIDS are at the highest risk of infection.
Symptoms of acute thyroiditis tend to come on quickly. The first signs of illness may include a high fever, chills, a hoarse voice, and a sore throat. A person may also have difficulty swallowing food or liquids. As an abscess grows, it can lead to a palpable lump on one side of the neck that is tender to the touch. The neck lump is usually painless, though it may cause dull, radiating aches down the neck when the head is tilted to one side.
Left untreated, acute thyroiditis can lead to serious complications. Infection can spread from the abscess to the bloodstream and possibly to the brain, which may lead to a life-threatening emergency. Hyperthyroidism, or overactivity of the thyroid gland, can also occur. Possible signs of hyperthyroidism include uncontrollable sweating, insomnia, rapid heart rate, and high blood pressure.
Acute thyroiditis is usually discovered and treated before major complications arise. Standard oral antibiotics taken for two weeks to one month are sufficient to clear up most bacterial infections. If a cyst in the neck is especially large and tender, a doctor may choose to drain it with a hollow needle. During recovery, patients are encouraged to rest and drink plenty of fluids to relieve symptoms. A follow-up visit once antibiotic treatment is complete can confirm that infection is entirely resolved.
A sore throat can be an early symptom of acute thyroiditis.

Acute thyroiditis is a bacterial infection of the thyroid gland.

The thyroid gland is an uncommon site for bacterial infection.

The symptoms of acute thyroiditis may sometimes be confused with thyroid cancer.

The first signs of acute thyroiditis may be a fever and chills.

Hyperthyroidism may cause insomnia.

The thyroid gland is important to memory, mood regulation and brain development.