Blue ointment is the name for a skin treatment that was used in the early part of the 20th century. Comprised of a mixture of mercurial ointment and petroleum or lard in a ratio of 2:1, respectively, blue ointment was often used to kill body lice, cure syphilis, and soothe troublesome skin irritations that did not respond to other poultices or salves. Mercury was known to have antiseptic properties and was effective in these treatments. The preparation was applied to the skin, however, so there was the danger that excess mercury could be absorbed through the skin with detrimental effects. One of its benefits, though, was that it did not cause stomach or abdominal upset, because it did not go through the digestive tract.
Blue ointment was applied to small areas of the skin at bedtime, rubbed so as to be absorbed into the skin, and sometimes wrapped with a cloth to increase exposure to the ointment. The skin was washed the next morning to remove any remaining ointment, and the procedure was repeated the next night on another small area of skin. As newer, less dangerous and more reliable treatments were developed to treat body lice and antibiotics were developed that cured syphilis, blue ointment fell out of favor.
A derivative of the ointment is still sometimes used in veterinary medicine to soothe skin irritation, particularly in horses. If used in this way, the animal must be watched for signs of mercury poisoning, including excess salivation, swollen gums, bad breath and loss of appetite. This is particularly true if the ointment is applied to an area of the skin that the horse could lick and, therefore, absorb into its system.
Other blue ointments currently in use are Blue Star Ointment® and Icy Blue Ointment. Blue Star Ointment is said to relieve the pain and itching associated with ringworm, insect bites and other skin irritations. Its active ingredient is camphor, with inactive ingredients of benzoic acid, lanolin oil, methyl salicylate, mineral oil, paraffin wax, petrolatum and salicylic acid.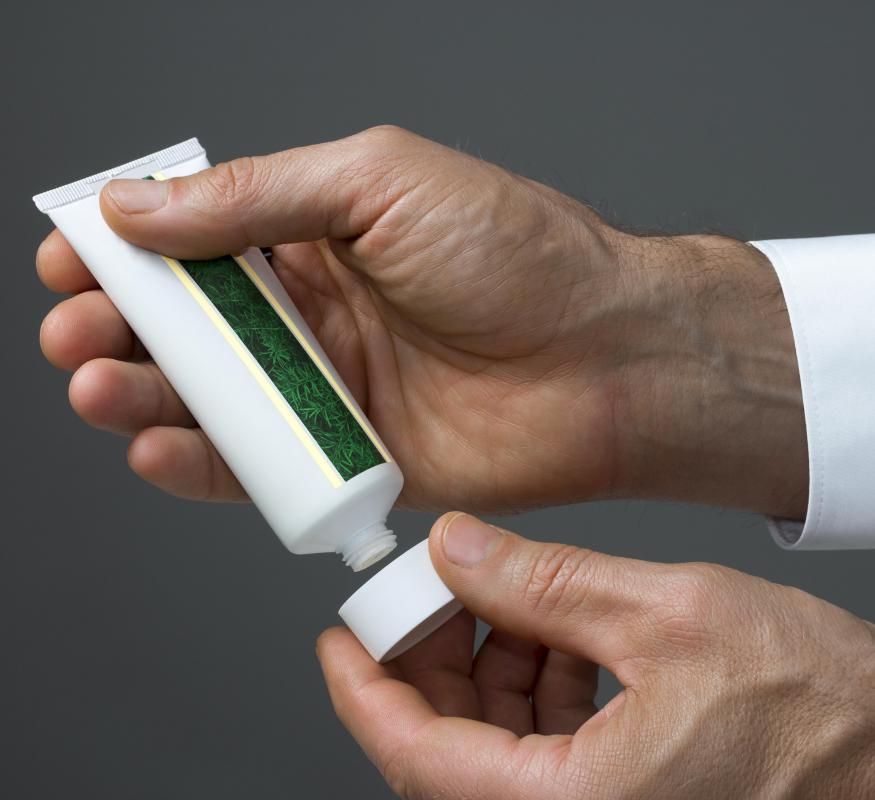 Icy Blue Ointment contains the active ingredient menthol to transmit a cooling feeling to the skin — reminiscent of an ice pack — and relieve the sensation of pain. Its inactive ingredients are alcohol, carbomer, polysorbate 60, triethanolamine, and water. Neither preparation includes mercury as an ingredient in any form.
Blue ointment contains menthol which can have a cooling effect on the skin, much like an ice pack.

Blue Star Ointment is said to relieve the pain and itching associated with ringworm.

A derivative of blue ointment may be used in veterinary medicine to soothe skin irritation in horses.

Blue ointment can help relieve the pain and itching from insect bites.

Blue ointment has been used to cure lice and other skin ailments.

Blue ointment may help soothe skin irritation.