What Is Lymphatic Drainage Therapy? (with pictures)
Lymphatic drainage therapy practitioners use their fingers in a light, feathery massage to redirect the flow of lymphatic fluid in specific areas of the body. They employ precise rhythm, pressure, and direction of massage to clear stagnant fluid from lymph nodes. Activating fluid flow in blocked nodes might detoxify the body to improve health.
Lymph nodes transport electrolytes, hormones, proteins, and toxins through the body. These nodes also contain macrophages and lymphocytes deemed crucial to immune system functioning. The theory behind this therapy centers on stagnation of the lymph system when fluids accumulate.
Lymphangions, or pathways in the lymphatic system, drain waste and toxic substances that might cause swelling or other health problems. When toxins build up in cells, and proteins accumulate, tissues fail to regenerate properly and healing becomes compromised. Lymphatic drainage therapy clears these pathways using the natural flow of flow of fluid via wave-like rhythmic massage.
Therapists use characteristics of human anatomy to detect the direction of lymphatic flow in a mapping technique. This is done manually to evaluate lymph node flow at superficial and deeper layers of the body. Once the direction is identified, this procedure involves very gentle massage in the same direction to clear blockages.
Holistic practitioners using this therapy believe swelling and inflammation stem from proteins collecting in lymphatic fluid. They use massage to treat chronic fatigue syndrome, arthritis, bronchitis, and other inflammatory disorders. Improving tissue health represents another use for this type of therapy.
The removal of toxins stimulates tissue regeneration and may aid in healing. Lymphatic massage therapy might speed the healing of wounds, lessen the appearance of scars, and reduce the appearance of wrinkles. Some people seek therapy to get rid of excess fat and cellulite. This type of massage is also used as an anti-aging technique.
Immune system functioning might also improve under these therapies. The practice might help patients with autoimmune diseases because immune cells are present in lymphatic fluid. Drainage therapy might also reduce stress, address sleep-related problems, and treat depression because it might stimulate the parasympathetic nervous system.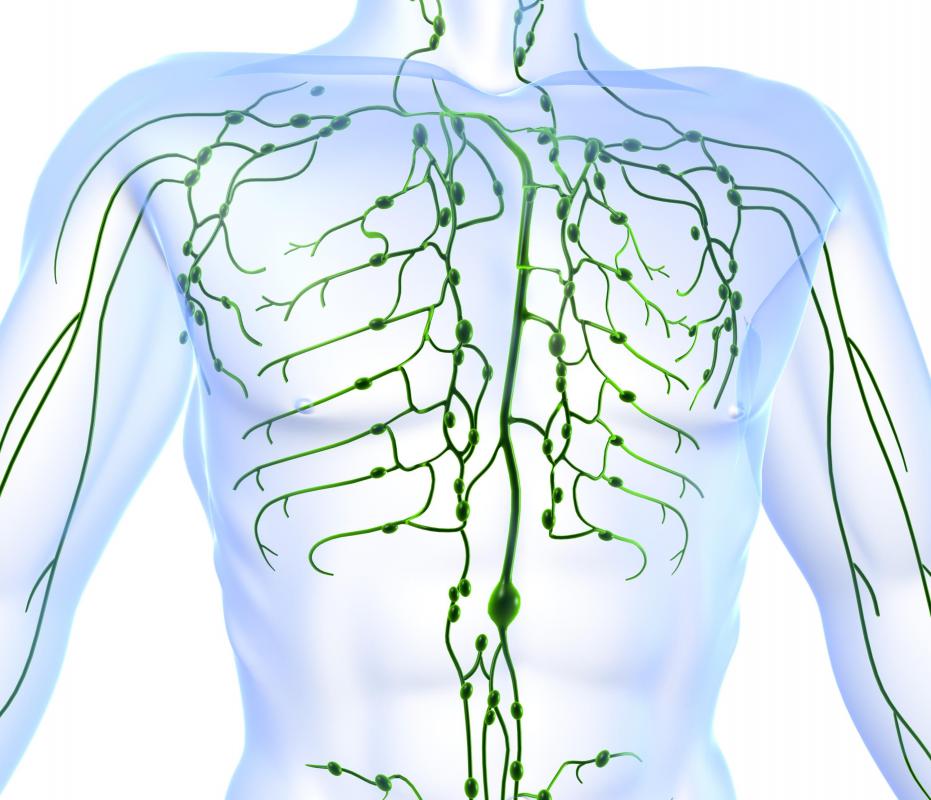 This form of holistic medicine originated in Belgium in the early 19th century. A Danish massage therapist refined a massage technique from the 1930s, sparking renewed interest in lymphatic drainage therapy. Also called decongestion therapy, it was used to treat lymphedema, an unnatural swelling in the legs and arms caused by blocked or damaged blood vessels.
Lymphatic drainage therapy may be helpful in treating chronic fatigue syndrome.

Lymphatic drainage therapy may be helpful in relieving discomfort associated with arthritis.

Lymphatic drainage therapy may help minimize the appearance of scars and speed the healing of wounds.

Lymphatic drainage therapy may help reduce the appearance of wrinkles.

The lymphatic system, shown in green.

Patients suffering with lymphadema may benefit from manual lymph drainage.

Lymphatic drainage techniques are often used in conjunction with holistic massage.