What are Renewable Resources?
Renewable resources are any type of resource that can be regenerated at a rate that is at least equal to the speed with which humanity can consume that resource. While considered capable of replenishment over time, resources of this type usually require some degree of planned and responsible cultivation and harvesting in order to ensure the resources are available for future generations. Wood, leather, and plant life are examples of renewable resources.
While many people assume that renewable and sustainable resources are the same, there is one key difference. Sustainable resources are those that can be utilized at will, with no worries about depleting the supply or having to cultivate the resources for future harvesting. Solar energy and wind energy are two examples of resources that are more accurately defined as sustainable.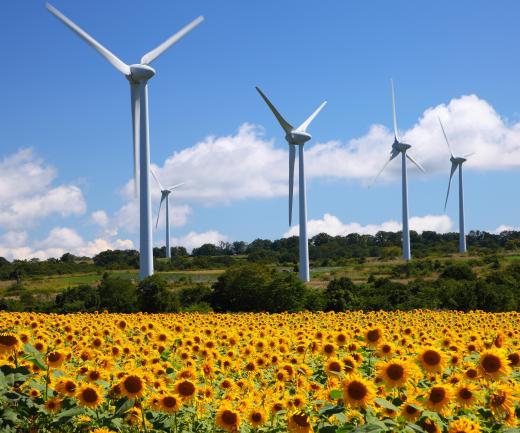 In terms of renewable energy, a natural resource such as wood is a good example of a resource that can be used but must be replenished over time in order to make sure the supply is plentiful for future generations. This is one reason why many timber companies make it a point to plant new trees after the harvest of a line of trees has taken place. The idea is that by replacing the trees recently removed to make timber for construction and other wood products, that same land will be able to yield a similar amount of product after a period of twenty to thirty years.
Over time, the emphasis on the use of sustainable and renewable resources to augment or even replace the use of non-renewable resources has become a priority for many people. With resources such as fossil fuels limited in quantity, the cultivation of biofuels from plants has gained a great deal of attention. Over time, it is hoped that corn and similar resources can be used to produce sufficient fuel to replace the use of gasoline and other products currently produced using fossil fuels.
The development of other products from renewable resources is also an ongoing process. Alternative energy produced with the use of solar and wind energy may be able to eventually augment the efforts to use biofuels to operate vehicles and heat homes that currently rely on fossil fuels. From this perspective, the ongoing developments in green energy may help to support the responsible use of renewable resources by increasing the shelf life of harvested resources. This action would in turn mean that trees would be harvested less often, even if the demand for new housing remained constant.
AS FEATURED ON:
AS FEATURED ON:






By: norikazu

Wind power is a renewable resource.

By: Antonio Gravante

Solar power is a renewable resource.

By: Johan Larson

Crops are a renewable resource as long as they can be replanted and harvested equal to the rate at which they are consumed.

By: fotohansel

The planet's coal, oil and gas resources are not only limited, but also damage the environment.