What are the Different Methods of Drainage Installation?
There are many different types of drainage solutions and drainage installation methods. Choosing the right one often can help alleviate a drainage problem. Ascertaining the exact drainage problem usually is a good first step. This may give an idea of what type of drainage solution should be used. Employing the draining installation methods properly can be a subsequent crucial step in solving the problem.
Generally, the most common type of drainage problem is the collection of excess water in a yard which can lead to flooding of the home, such as in the basement. The buildup of water can be a result of the shape of the landscape. Inclines and slopes in the land make some spots more prone to collect water. By correctly identifying these problem areas, one can then usually begin to examine appropriate drainage installation methods.
French drains are a prevalent drainage solution. The method for making a French drain generally involves digging a trench-like structure in the ground that then usually is filled with gravel or sand. The installation of the French drain is generally made to best facilitate the distribution of water away from problem areas. In this regard, determining the slope is critical before any actual installation.
Typically, French drains have a depth of 7 to 12 inches (about 17.75 to 30.5 cm) and a width of approximately 5 inches (about 12.75 cm). This usually can be done by hand. Gravel occasionally is added to the completed trench, filling it almost to the surface. Sand some times can be placed on top of the gravel. As the French drainage installation method is fairly basic, it often can be an elegant and simple way to eliminate draining problems.
Draining systems that use pipes is another method for solving drainage problems. A trench system needs to be dug so that the pipes can be placed inside. One can determine where to dig these trenches by examining the water flow and deciding a suitable place for relocation.
Selecting the different pipes to use can be an important part of this method. Flexible perforated pipe, usually 3 or 4 inches (about 7.62 or 10.16 cm) in width, commonly is used in home gardens. The installation of pipe drainage system may also decrease the buildup of sub-surface water.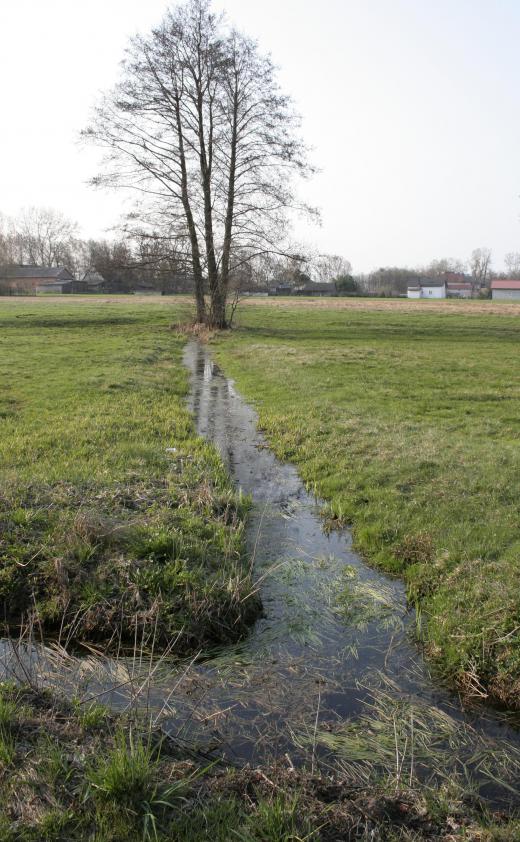 Another method of draining installation is a rain barrel. The rain barrel generally is installed where there is an excess of rain water, such as under a roof trough. Rain barrels store the rain water, rather than entirely redistributing it. The stored water then can be used as drinking water or for watering plants.
Many times, drainage installation methods can be complicated. In these cases, there are many professional companies that offer drainage solutions and installation. Such firms generally should be able to correctly identify the exact drainage problem and then find the appropriate drainage solution.
AS FEATURED ON:
AS FEATURED ON:






By: Andrey Kuzmin

Drinking water can come from collecting rainwater in a barrel, a form of draining installation.

By: Amy Walters

A home's downspout diverts water away from the gutter system.

By: Aaron Kohr

There are many types of drains that may be installed on a property to help remove water.

By: Robert Harrak

Ditches or trenches used for drainage must be dug in the right location and the right depth.

By: nito

Gravel may be used in drainage installation to help filter water.